We have now come to the end of the May Festival for 2021. Thank you to everyone who took part in our online events, competitions and limited outdoor activities.
We are pleased to announce that over £2,200 was raised during the Festival week for Tenovus Cancer Care. If you enjoyed the Festival but have not yet made your donation it is not too late to donate online now. We will continue to tally up the donations from the online page and various other events through the year which this year will also include our September Festival events – see the Events pages for further details as more events are announced.
Monday – we kicked off with a fascinating talk on Italian wine by Saverio Florimonte. Specifically focussing on Gavi de Gavi from the Piedmont region of northern Italy.
Tuesday saw a multi-camera cookery demonstration by Lisa Fearn of the Pumpkin Patch kitchen garden and cookery school near Carmarthen. Lisa joined us from "Y Sied" her new cookery school buildings in a re-vamped cow shed and gave a demonstration of a beautiful way to cook salmon (or pretty much any other protein) with roasted veg, a warm tasty salad with a variety of dressings and a quick chocolate cake. Lisa also answered questions from the audience whilst trying to remember where everything was in an unfamiliar kitchen. The only complaint from the audience was that Lisa got all of the tasting to herself as we could only join remotely via Zoom.
Wednesday, Chris Dale gave a tale of Found and Lost as we learned about the Roman Ships of Lake Nemi. In his usual illustrated style with many photos, Chris led the audience through the difficult history of the preservation (and multiple losses)  of these beautiful artifacts.
Thursday saw the return of the online version of the Tenovus Festival Quiz. Seven teams competed hard in what turned out to be a close battle for the trophy with only 6 points between our winners, Team Kiff hold on to the trophy, and the wooden spoons which went to Team Jenkins.
Friday night was "eyes down for a full house" as we gave online bingo a try. Ian was in the calling chair and had all the Bingo Lingo ready to go. As his giant balls appeared over his right shoulder, participants had their dabbers out looking for a Line and then House, all for the glory of virtual prizes ranging from virtual worthless cups and saucers to the star prize, a virtual speedboat. It was a learning experience for many who had not played the game before but we have reports that fun was had by all!
The May part of our Festival was brought to a close on Saturday with the only in-person event of this portion. Open Gardens (now with added plant sale) gave an opportunity for a socially-distanced nose around neighbours gardens as 4 brave households opened up their gardens for a perusal. With much waving from a distance, it has been noted how great it was to start to be able to see neighbours again and many are now looking forward to the in-person events planned for September when hopefully restrictions will have been relaxed further.
Activity Trail
Captain Radmore had again left an Activity Trail around the village which could be taken on by families of all ages. He was very pleased with the number of people who successfully made it around the route and returned their answers by the end of the May Festival, so much so that he even shared some of his treasure… If you haven't tried the route yet it is still available to download – and we will soon add an answer sheet for you to check against at the end of the trail too!
Competitions
Congratulations to all of our competition winners.
Colouring Competition
We had strong entries from both Bryn Deri and Radyr Primary Schools with prizes awarded in all categories.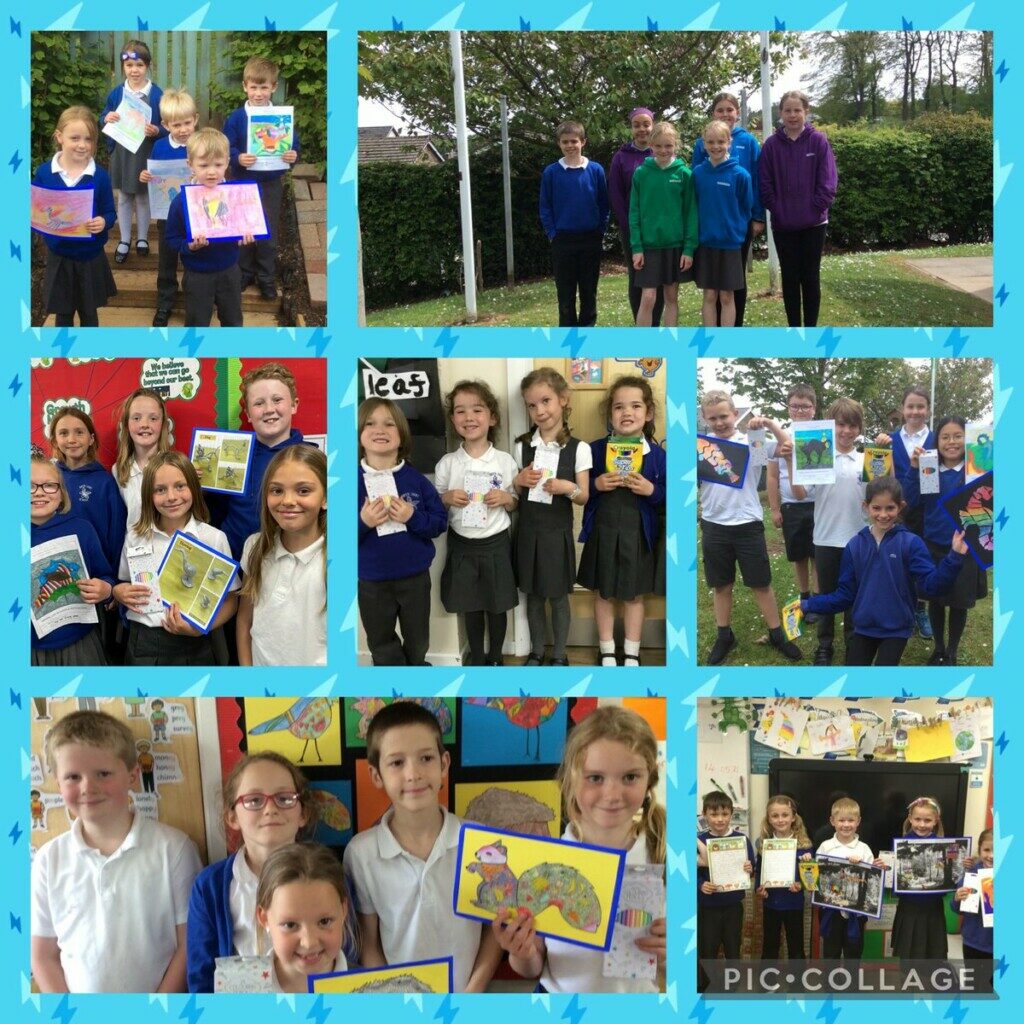 Photography competition
A digital photo competition with the theme "Animals in Radyr and Morganstown". This could include pets, wild animals and visiting birds in the village.
Winner – Anne Silver with "dinner time"
Second place – Michel Foley with "Squirrel under the seat"
Third place – Michael Foley with "Squirrel on the bench"
Highly Commended – Sally Lunscombe with "Making honey while the sun shines"