The theme for 2021 is "Animals in Radyr and Morganstown".
Blank drawings for colouring will be made available through Bryn Deri and Radyr Primary Schools and are also available to download from this webpage. Alternatively children may prefer to prepare a free-hand drawing on the theme.
Drawings can be returned to either of the participating primary schools or Radyr Library by 16.00 on Wednesday 5 May 2021.
Download set of 4 images for colouring (PDF, 2.1 MB)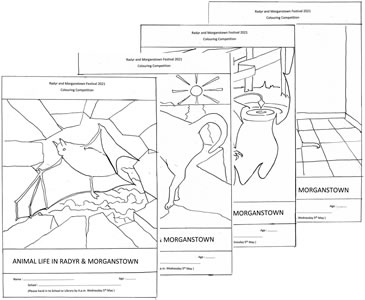 Please mark the back of each entry with your
name,
age,
school and
contact e-mail address for a responsible adult*.
*Contact details are only collected and used only for the purpose of running each individual competition. They will be stored securely and then destroyed within 1 month of the end of the Festival. This is in line with the RMA Privacy Policy