FESTIVAL COMPETITIONS
(Open to all)
FESTIVAL DRAW
See here for details of the fantastic prizes available in the this year's Festival Draw, all in aid of Alzheimer's Society Cymru.
IMAGING 2000 PHOTOGRAPH COMPETITION AND EXHIBITION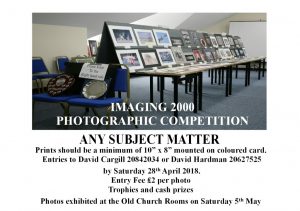 Prints should be a minimum of 10" x 8", mounted on coloured card. Competition entries to Trevor Fox, 029 2221 6743, by Saturday 28th April. Entry Fee £2 per picture. Trophy and cash prizes to the winners. Exhibition at Festival Fete in the Castle Room on 5th May, starting 12.00.
PAINTING COMPETITION:
Subject "Memories". Three categories:
under 7, colouring of provided drawing
under 7, and 8-11, free-hand drawing
Original drawings for colouring by Keith John. Entries to be handed into local schools or Library. Arrangements will be made to collect all entries by 4pm on Wednesday 2nd May.
Prizes and cups for category winners.
COMMUNITY COUNCIL LITERARY COMPETITION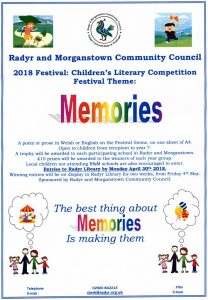 Subject "Memories".
A poem or piece of prose on one sheet of A4.
A competition for local children. Entries required at your school by Monday 30th April. Judging will be on Wednesday 2nd May. Winning entries will be displayed in the Library during the Festival.
A trophy will be awarded to each school and prizes will be awarded to the winners of each age group. A list of the winners is here. Congratulations to all!

ART AND CRAFT COMPETITION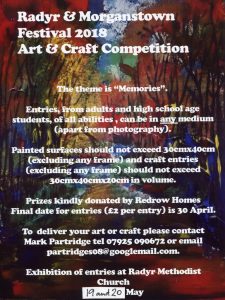 Subject "Memories".
Any medium apart from photography. Entries, please, from adults and high school age students – of all abilities. Painted surfaces should not exceed 30cmx40cm (excluding any frame) and craft entries should not exceed 30cmx40cmx20cm.
Final date for entries (£2 per entry) is Monday 30th April. To deliver your art or craft, please contact Mark Partridge on 07925 090672 or partridges08@googlemail.com
Exhibition of entries at Radyr Methodist Church on 19th May (11am to 3pm) and 20th May (1pm to 4pm).
Prizes for those aged 18 and under, and for over 18s.