FESTIVAL COMPETITIONS
(Open to all)
FESTIVAL DRAW
See here for details of the fantastic prizes available in the this year's Festival Draw, all in aid of St John Ambulance Wales.
IMAGING 2000 PHOTOGRAPH COMPETITION AND EXHIBITION
Prints should be a minimum of 10" x 8", mounted on coloured card. Competition entries to Dave Hardman 2062 7525 or Trevor Fox 2221 6743, by Saturday 22nd April. Entry Fee £2 per picture. Trophy and cash prizes to the winners. Exhibition at Festival Fete on 29th April, starting 12.00.
PAINTING COMPETITION:
Subject "Superheroes". Three categories:
under 7, colouring of provided drawing
under 7, and 8-11, free-hand drawing
Original drawings for colouring by Keith John. Entries to be handed into local schools or Library. Arrangements will be made to collect all entries by 4pm on Wednesday 27th April.
Prizes and cups for category winners.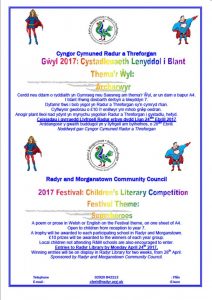 COMMUNITY COUNCIL LITERARY COMPETITION
Subject "Superheroes".
A poem or piece of prose on one sheet of A4.
A competition for local children. Entries required at your school by Friday 21st April. Judging will be on Wednesday 26th April. Winning entries will be displayed in the Library during the Festival.
A trophy will be awarded to each school and prizes will be awarded to the winners of each age group.